If you're furnishing a new living room, one of the first items you'll need is a couch or sofa. In any home, living room seating is important for family time, watching movies and TV at home, or entertaining guests.
For new homes, you may have a lot of furniture to buy and those expenses can pile up, especially when finance options are limited due to a bad credit history. In this buying guide, we'll outline what you should look for when getting a new couch for your home on finance and how a finance plan can help you get crucial furniture when you need it.
Featured: How to buy appliances on instalment with poor credit in Australia
Consider your lifestyle
While looking for a couch, keep your lifestyle in mind. How are you going to use your couch, and who is going to be using it? For example:
● If you'll mostly use your couch for watching TV and movies, you'll probably want a couch that is comfortable to sit in for a few hours at a time. You might also consider a chaise, ottoman or built-in footrest so you can put your feet up while you watch.
● If you're not much of a TV person, but you want a couch to entertain guests, you might like to choose seating that lets people face each other. For example, an L-shaped sofa or armchairs.
● If you often have overnight guests, or you have kids who might have sleepovers, a fold-out sofa bed could be a good option. For example, this sofa bed with chaise offer plenty of room for reclining or staying overnight.
Lastly, if you have kids or pets, you'll want to be sure the couch you choose is suitable. Some materials may be better suited for exposure to a dog's claws, or more resistant to spills from excited children. We'll talk about specific materials in more detail below.
Measure your space
Space is a major consideration for your new couch. Not only do you need to be sure your couch will fit into your living room where you imagine it sitting, you need to know it can fit through doors when it arrives.
Measure your space, allowing 5-10 centimetres of extra room in every dimension. If there's a particular couch you're already considering, you might like to use masking tape to outline the shape and size of the couch on your floor. This can give you a great idea of how well it will fit, and if it might cause any access issues (for example, if a chaise might block a door).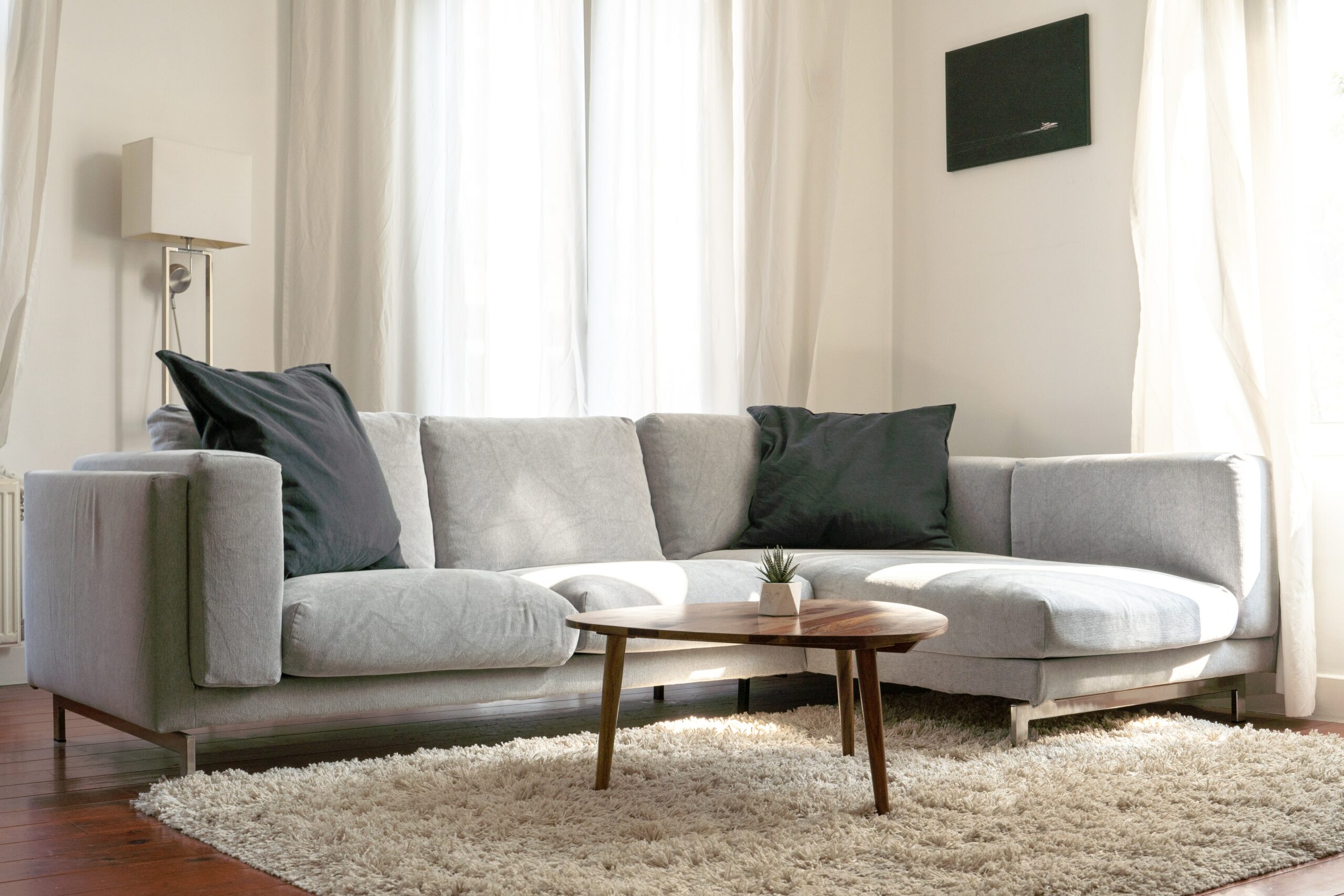 A financed couch is a great way to get your living room furnished quickly.
Choose your material
There's a huge number of different materials that can be used for couch upholstery, but they can generally be grouped into four broad categories.
● Natural fabrics: Fabric sofas are made from woven upholstery fabric. Common natural fibres include cotton, linen, silk and wool. Cotton and wool are known for their great performance against wrinkling, fading and pilling, and are often blended with synthetic fibres for even greater durability and stain resistance.
● Synthetic fabrics: Man-made materials like polyester, acrylic, olefin and nylon are generally more resilient than natural fibres, though don't have the same softness and luxuriousness. Synthetics offer better performance and can be blended with natural fibres for enhanced feeling and appearance. If you like the look and feel of suede or velvet, but want greater durability, a synthetic faux suede is a great alternative.
● Leather: Leather is a very popular option for pet owners and parents, as it is very resistant to wear and tear. Real leather requires some upkeep, as it can dry out with exposure to the sun and air conditioning. Some types of leather are also not very water-resistant, so spills should be cleaned up as soon as possible.
● Vinyl: Faux leather, vinyl or polyurethane (PU) is a popular, lower-cost alternative to leather. Like leather, vinyl is durable however it will crack over time while real leather will age more gracefully. Unlike leather, vinyl is much less likely to fade in the sun but will hold heat. Vinyl is naturally water and stain resistant, but some people may find it less comfortable than leather.
Match your style
Aesthetics aren't the most important thing if you just need a couch as soon as possible, but if you have some time to choose, you should think about what look you'd like to achieve in your home. Pinterest and Instagram are a great place to start – look at what other people have done in their homes.
The shape, colour and material of a couch have a great impact on the style of your living space. For example, mid-century style "splayed" legs create space under the couch that gives the illusion of larger floor space – perfect for a small living area. Meanwhile, lower "block" legs are more modern but visually heavier.
Extra features
There are a few different features that are available with some couches. Here are some you might like to look for if you have some room in the budget.
● Flat arms: Perfect for resting a drink, reading materials or the TV remote.
● Cup holders: Built-in cup holders can reduce the risk of spills.
● Reclining: A reclining back and/or built-in footrest can add heaps of comfort to your living room, and mechanical or powered recliner options mean there are different price points available.
● Chaise: A chaise is part of a sectional couch that protrudes forward, creating an L shape. The chaise is perfect for putting your legs up or having a nap.
● Sofa bed: Some sofas can fold down or out, creating a wider flat surface for sleeping on.
Buy on finance or buy outright?
If you're ready to pick up a couch for your living room, the last thing to decide is how you'll buy it. Most often, people will buy large ticket items like couches on a credit card or in-store payment plan. However, these options usually require a credit check and potentially very high-interest rates.
Another option you might consider is financing. With a finance plan, R4K will get the couch for you on an instalment agreement. You'll then get the couch delivered to you and make small weekly payments until the end of the agreed upon period. Once the period ends, you'll own it at no extra cost.
| | | |
| --- | --- | --- |
| Buy | Buy on credit | Buy on finance |
| Expensive lump sum, often prohibitive | Upfront payment is made with borrowed money | No upfront payment for you |
| Delivery charged by retailer | Delivery charged by retailer | Usually Free delivery |
| No ongoing costs | Monthly minimum payments | Small weekly payments (or fortnightly) |
| No credit checks | Credit checks for finance | Compassionate credit check – we consider all applicants fairly |
| Cheaper long-term | Interest rates and missed payment penalties can inflate cost | You pay extra long-term for the convenience |
| Manufacturer warranty applies | Manufacturer warranty applies | Manufacturer warranty applies |
Why buy a couch on finance from R4K
R4K is a fully Australian owned and developed home appliance and furniture finance and sale by instalment company. We're committed to making the instalment agreement process as easy, simple and friendly as possible.
We can provide you with any home appliance or furniture. Select an item from our online catalogue and get in touch and we'll develop a finance plan for you with no upfront costs. Every item we provide comes complete with a full manufacturer warranty.
R4K conducts a credit check as we are required to, but will always work to ensure we can help you get the products you need, even if you're on .
If you're ready to buy a couch or other living room furniture on finance, call us now on 1300 1300 77 or apply online today. Our expert team will be in touch as soon as possible to help you get financing.