Looking to rent a heater, or buy a heater on finance? Whether you're heating your home or an outdoor patio, buying a heater on finance can be a more affordable option compared to buying outright, as you don't need to pay any upfront costs, and you pay it off over time. Better still, instalment plans mean you can avoid big costs while still enjoying the benefit of owning the heater forever. So if you are considering a heater rental, contact us to discuss a Heater on an Instalment agreement.
This article will run through how much it costs to finance a heater, what types of heaters you can finance, and whether you're better to buy upfront or finance.
Looking for our heaters available on finance? Browse our heating range online.
How much does it cost to buy a heater on finance?
The cost of a financed heater varies according to the price and quality of the heater you choose. Generally speaking, you pay a bit more for the convenience of financing a heater in the long term, but the lack of upfront payments means you can more easily accommodate a financed product if you're tight on cash.
If you're looking to get a heater on finance, contact us today to discuss an R4K Instalment Agreement, a great alternative to renting a heater.
Here are a few of our most popular heaters available to buy on finance.
What types of heaters can you buy on finance?
There are loads of different types of heaters, and it pays to know how they differ so you can get the right heater for your needs. Let's look at the different types of heaters you can get on a finance plan.
Note: All of the heaters we're talking about here are portable heaters. None of these options requires installation, and they can move house with you. So, we won't cover HVACs, wall-mounted heat pumps, or traditional wood-burning fireplaces. We can arrange these types of heaters on request.
Oil heaters
Oil heaters have stood the test of time as a beloved portable heating option for decades. They look a lot like old-school built-in radiators but are smaller, portable, and easily plugged in at the wall.
The heater is made up of several columns or fins which are filled with diathermic oil. This oil isn't a fuel, so it's not burned off and doesn't need refilling ever. Instead, the oil holds the heat provided by electricity.
Simply put, electricity flows from your wall outlet to the heater, where it's converted into heat. That heat is then held by the oil, and it begins circulating in the oil heater. Thanks to all the fins of the heater, there's plenty of surface area that then radiates heat and efficiently warms your space.
Oil heaters are:
● Affordable
● Virtually silent
● Safe (no fumes, but still hot to the touch)
● Slow to cool, meaning they can continue to warm a room even after they're switched off.
On the flip side, oil heaters can take a little more time to get going than some more modern options.
Read more: Essential appliances for moving into a new home
Panel heaters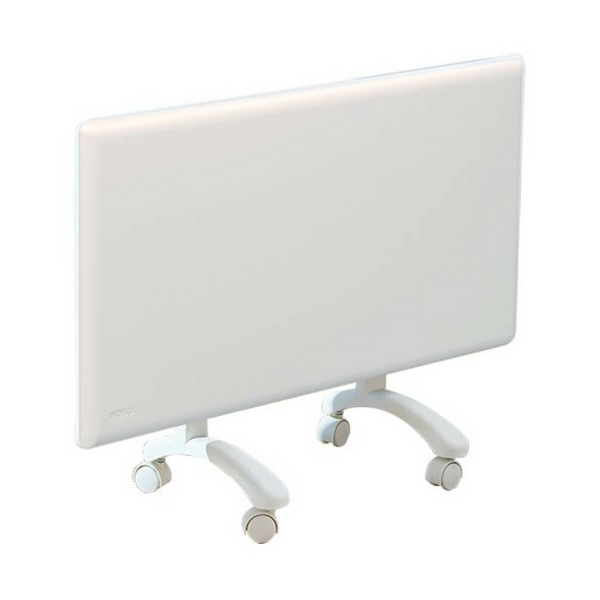 Nobo 2400W Panel Heater with Timer, Thermostat and Castors–  From $13.35 per week
Panel heaters are similar to oil heaters in that they are convection heaters, meaning they use heat transfer to provide background warmth. Heat is transferred from the heater to the air and then to your body. This means the heater isn't a blast of warmth but a background warmth — so convection heaters are ideal for quietly warming a room without creating too many hot spots.
Panel heaters are available as wall-mounted heaters or portable plug-in alternatives. Some also have a fan which can provide even more heating as well as quicker warm-up times.
Unlike oil heaters, panel heaters can be very intelligent. You can find Wi-Fi-enabled panel heaters with intelligent thermostats and newer, innovative technology that enhances heating capabilities while reducing energy costs.
Panel heaters are:
● More expensive than oil heaters
● Virtually silent
● Safe but hot to the touch
● Capable of being Wi-Fi-enabled or built with other cutting-edge technology
● Significantly variable in terms of price, features and quality
Portable heat pumps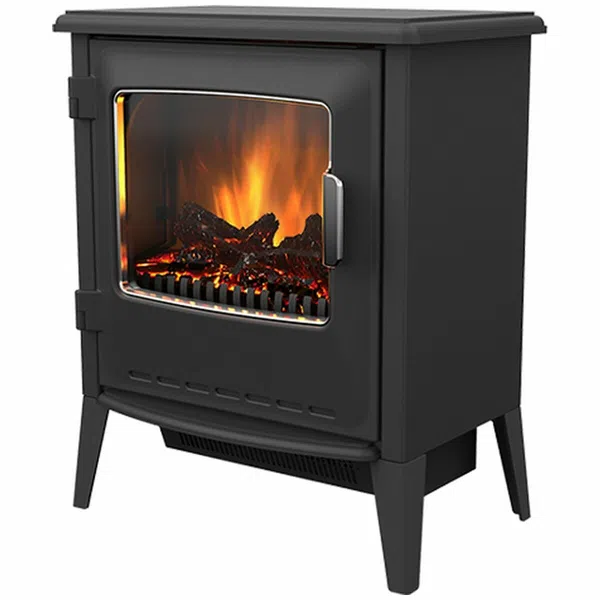 Dimplex Riley 200W Portable Electric Heater – From $5.16 per week
Traditional split system heat pumps are often considered the gold standard for home heating — so how does a portable unit compare?
Portable heat pumps tend to be significantly noisier than split systems, less energy efficient, and require ventilation through a window using provided tubing. Once you've set the heat pump where you'd like it, you need to feed the exhaust hose through a window to vent out cold air and moisture.
A portable heat pump is still more energy efficient than other electric space heaters and has the great benefit of versatility — they can often cool, heat and dehumidify. Being portable, they're also a great option if you want powerful, energy-efficient heating but you move home a lot and aren't concerned about noise.
Hot and cool fans
Combination fans and heaters are a relatively modern alternative to traditional space heaters. These function just like your everyday tower fan, but have the added convenience of a hot air option.
The real strength of a hot and cold fan is its versatility. You can direct the hot air at you for an immediate blast of warmth or set it to oscillate and warm the whole room. Easily pick it up and move it around the house — they are often lightweight compared to other options. Of course, a hot and cool fan can also act as a regular fan during summer to keep the air moving.
You don't need to worry about ventilation pipes or water tanks, but you may need to clean a filter now and then if it includes an air purifier, as many do.
Hot and cool fans are on the expensive side, but they're a great investment if you value quiet, versatility, portability and style.
Patio heaters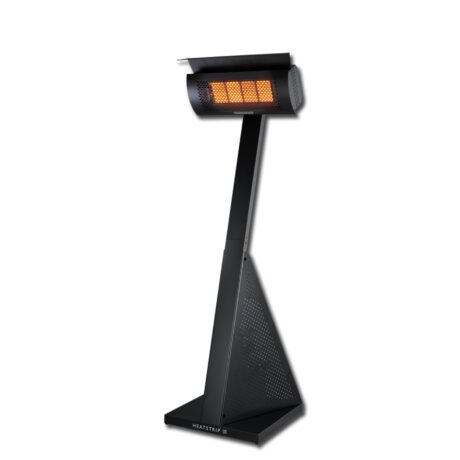 Heatstrip Portable Outdoor LPG Gas Heater with Stand – From $21.03 per week
As the name suggests, a patio heater is a heater designed to warm an outdoor living space like your balcony or patio. Because an outdoor space is naturally too large for a convection heater to effectively warm, outdoor heaters use radiant heat instead.
Radiant heat involves a lamp or gas flame and reflective surfaces to direct heat out to those in its vicinity. Often patio heaters will include a rating for how far the warmth will travel.
Patio heaters are available as both gas and electric options and as large towers, wind barriers, heating strips or table heaters (which are designed to have a tabletop placed on top and warm peoples' legs).
How to save money upfront when buying a heater on finance
Buying a heater on finance or an instalment agreement is a fantastic way to save money upfront because you don't have to drop a large sum on a new piece of technology. That said, it still pays to be mindful of how you can save money.
Indeed, financing a heater is more expensive in the long term than buying outright. But that doesn't mean it's not the right option for you if you're trying to save money. While you will pay more over a 24 or 36 month term, that cost will be broken down into low weekly payments which are much more manageable. So, you can pay off your heater while you continue your savings plan. At the end of the instalment agreement, you own the product. This is a great alternative to heater rental.
Importantly, this also opens you up to options that might have been too expensive to buy outright but can save you money in terms of running costs. More expensive heaters are often more energy-efficient, so you do save money with a modern appliance.
To save money when buying a heater on finance, your best option is to find the most energy-efficient heater within your budget.
Should you buy a heater upfront or finance it?
Whether you buy upfront or go for a finance plan should be informed by your current budget and your financial goals. It's ultimately a personal decision, but to help you decide we've put together the handy table below.
| | |
| --- | --- |
| Buy a heater in cash | R4K Instalment Agreement |
| Expensive lump sum, often prohibitive | |
| New, never-before-used item | New, never-before-used item |
| You own the item immediately | You get the item for an agreed term, pay instalments, then get to own it at the end |
| Delivery charged by retailer | Often Free delivery depending on your location |
| No ongoing costs besides running costs | Small weekly payments and running costs |
| | Great understand of bad credit history – we consider all applicants fairly |
| | You pay more long-term but in low weekly payments (or fortnightly) |
| Manufacturer warranty applies | Manufacturer warranty applies |
| More energy-efficient heaters may be out of your price range | Energy-efficient heaters may be more affordable broken down into weekly payments |
Read more: Why buying on finance is better
Why buy a heater on finance from R4K
R4K is a fully Australian owned and developed company. We're committed to making the buying process as easy, simple and friendly as possible – no upfront costs, and affordable weekly payments.
We can chat with you about the best heater to finance according to your budget and situation. We'll put together a flexible plan for you to pay for your heater in small weekly instalments that's appropriate for your needs.
If you need a hand with heating for your home, we're always happy to help. Just call us now on 1300 1300 77 or apply using our online form today today.